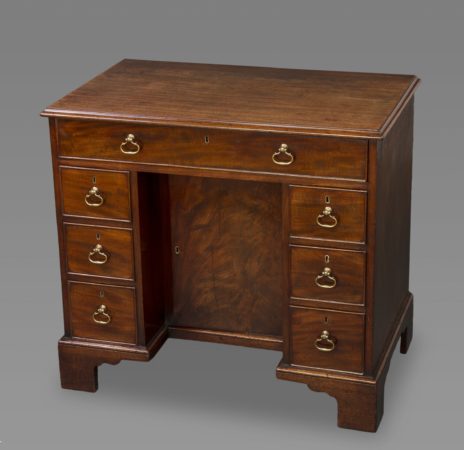 George III Mahogany Kneehole Desk of Exceptional Quality
Inventory Number: : 120-120

Price: $ 23,500

Height: 29 3/4 inches

Width: 34 inches

Depth: 23 3/4 inches



For more information please contact us
TELEPHONE. 917 414 1827
EMAIL. [email protected]


www.michaelpashbyantiques.com
© Michael Pashby Antiques.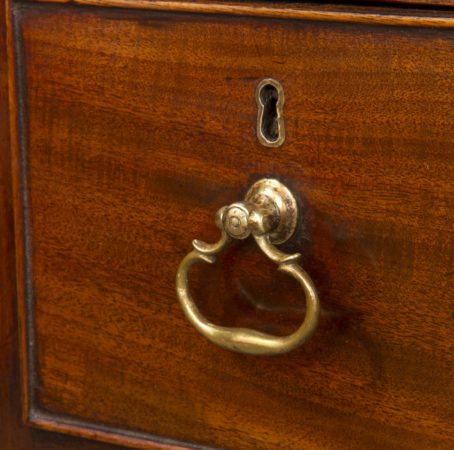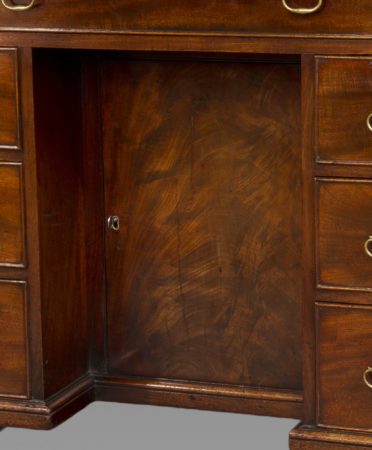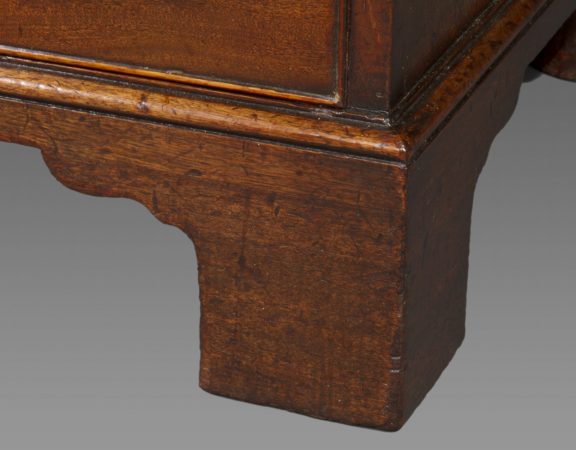 DESCRIPTION
With one long drawer to the frieze over two columns of three short draws with a recessed cupboard between ending in the original bracket feet. This small desk is of excellent quality and craftsmanship constructed of well figured dense Cuban mahogany, the drawers lined with oak with very fine dove-tails. The underside with an original coating of red wash. the drop handles retaining traces of fire-gilding. An old hand written label to the interior of the long drawer stating, 'Lady Melville London'. This table relates directly to a bureau dressing table supplied by Thomas Chippendale c.1775 for the Buff Bedroom at Paxton House, Scotland c.f. Christopher Gilbert, The Life of Thomas Chippendale, vol.2 p.229, pl.417,in particular the highly figured panel to the cupboard door, the blocking to the feet, the red wash to the underside and the use of cock-beading to the door frame rather than the door itself. The label most likely relates to the Viscounts Melville who are related to the Dundas family who commissioned a great deal of furniture from Thomas Chippendale for Aske Hall, Yorkshire, Moor Park Hertfordshire and their London house, 19, Arlington Street. Although highly speculative, it is possible that there may be a link between the Lady Melville referred to on the label and the Dundas family. The Melvilles were a distinguished family, created Viscounts in 1802, and it is plausible, although highly speculative, that the current desk could have been part of a Dundas commission that passed by descent to Lady Melville. An attribution to Thomas Chippendale, although highly speculative cannot be entirely ruled out.
English c. 1750-1770