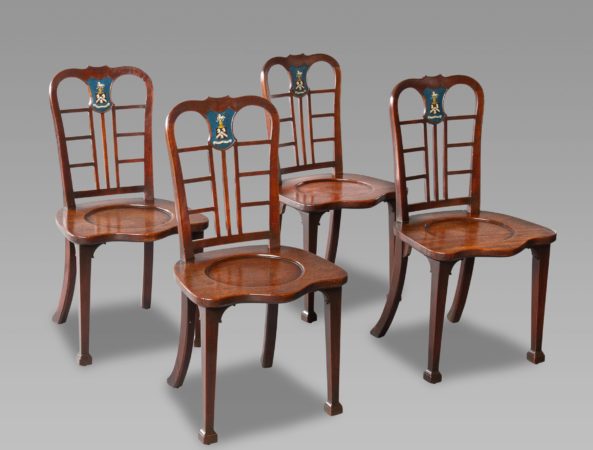 Exceptional Set of Four George II Mahogany Hall Chairs
Inventory Number: : 130-128

Price: $ 38,000

Dimensions:

Height: 37 inches
Width: 19 inches
Depth: 21 inches
Other measurements: seat height 18 inches



For more information please contact us
TELEPHONE. 917 414 1827
EMAIL. [email protected]


www.michaelpashbyantiques.com
© Michael Pashby Antiques.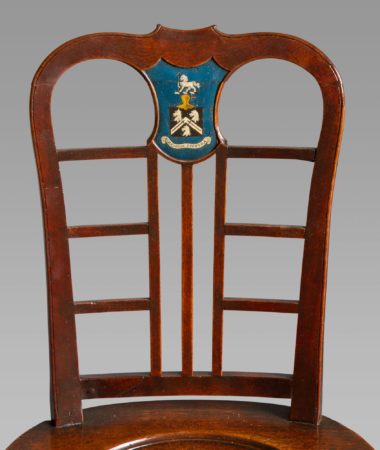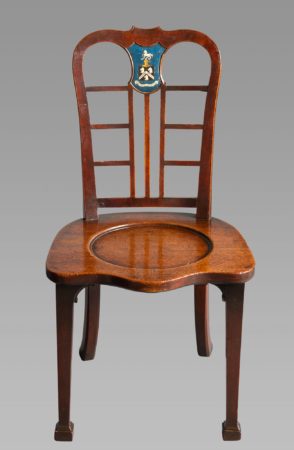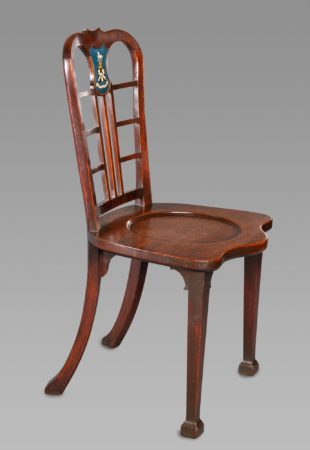 DESCRIPTION
In the manner of Thomas Chippendale these hall chairs were commissioned by Edward East of Jamaica circa 1755-60.
During the reign of James I, the East family emigrated from Kent to Ireland and one of their descendants, John East, an army captain, joined the adventurers Venebles and Penn, father of the founder of Pennsylvania for the conquest of Jamaica. For these services, John East was awarded considerable estates in Jamaica following the restoration of Charles II.
East's grandson, Edward East, who married Amy Hall of Jamaica in 1761, commissioned these chairs. As the chairs have only the East family arms, they were probably commissioned prior to the marriage (the Hall family were gregarious).
The chairs along with the entire estate passed to East's younger son Edward Hyde East (b. 1764) following Edward's death in 1784. Edward Hyde East studied at the Inner Temple in London, sat in Parliament, and for his support of William Pitt was appointed Chief Justice of the Supreme Court in Bengal, India, in 1813, when he was knighted.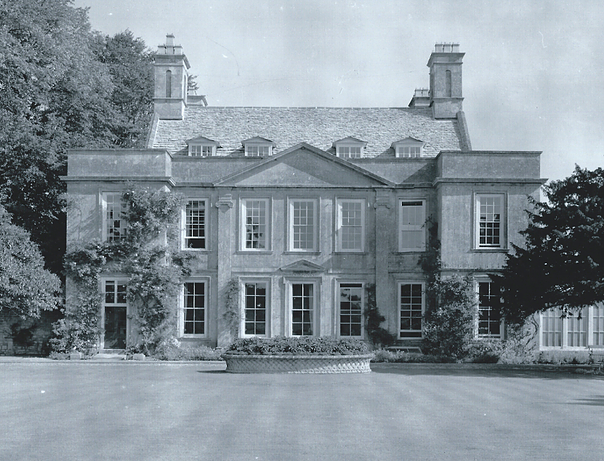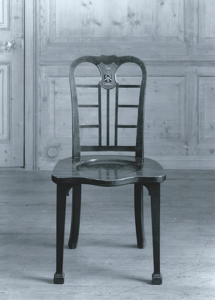 Either at this time or when Edward Hyde East was created a baronet (of Calcutta) in 1823, the armorial bearings on these chairs was repainted to reflect the increase in status with the addition of a helm above the arms.
Edward Hyde East's son James Buller East, also a lawyer and member of Parliament, succeeded him as 2nd Baronet of Calcutta in 1847, and in 1851 he purchased the freehold of the estate of Bourton House, Bourton-on-the-Hill, Moreton-in-the-Marsh, in the County of Gloucestershire and the hall chairs were moved to that site where they remained until the contents were dispersed in 2013. Although Buller East died without issue in 1878, the estate transferred to a first cousin, Emily Matilda, and was transferred by descent. In March 1940, Country Life published a two-part article on Bourton House then occupied by Emily Matilda's elder daughter Ada Theodosia Bligh and the current chairs were photographed in-situ.